The Aero Clock este o aplicație simplă de ceas pentru desktop-ul calculatorului dar în același timp una foarte utilă având opțiunile perfecte de care am avea nevoie de la un astfel de ceas.
O primă caracteristică a lui este că ceasul care este afișat pe desktop după instalarea aplicației care este portabilă îl putem face cât vrem de transparent în afișare.
Un ceas ca acesta este util în special pentru atunci când vrem ceva mai mare decât ne oferă Windows-ul pe desktop, și de ce nu ceva care să rămână mereu în top, ceea ce The Aero Clock poate să facă, adică să rămână mereu "deasupra" la orice aplicație/browser/fișier/folder deschis.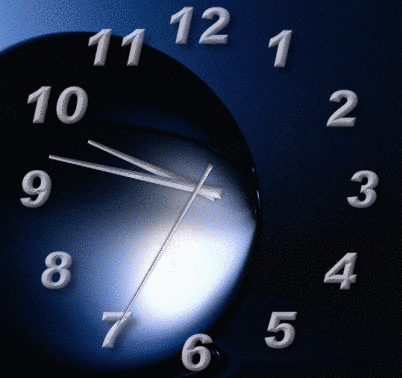 Acest program este complet gratuit și cum am mai spus, este portabil, adică nu necesită instalare, după descărcarea lui dezarhivăm arhiva și executăm TheAeroClock care are doar 1.936 KO.
După ce am executat aplicația jos în taskbar o să ne apară iconița pe care facem click pentru a intra în setări.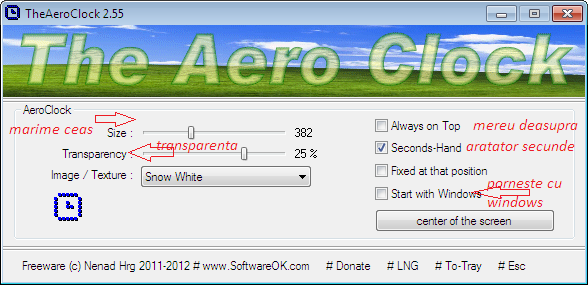 După cum puteți observa și în imaginea de mai sus, putem mări dimensiuna ceasului afișat pe desktop de la Size, putem schimba transparența lui de la Transparency, putem să-l avem mereu deasupra altor aplicații de la Always on Top, de la Seconds-Hand putem să scoatem secundarul, adică linia aia care arată secundele la ceas, bifând la Fixed at that position îl putem fixa în poziția care dorim iar la Start with Windows acesta o să pornească odată cu Windows-ul.
Acesta consumă foarte puține resurse, practic nici nu-l simți în sistem ceea ce e normal la un ceas pentru desktop.