Aţi văzut prin diverse locuri animaţii care cuprindeau părţi dintr-un film, sau părţi haioase de pe youtube, ori din propria creaţie, şi v-aţi gândit că este ceva greu de realizat?
Aflaţi că nu este o chestie deloc complicată, datorită lui Free Video to GIF Converter putând extrage simplu diverse părţi dintr-un film făcându-le animaţii într-un format GIF.
Pentru a începe crearea unui GIF dintr-un video cu acest program la început o să fim nevoiţi să alegem video-ul din care dorim să extragem animaţia, dând pe Browse. După ce video-ul este încarcat, opţiunile de extragere o să fie valabile.
La Extract frames selectăm la From de unde să înceapă extragerea iar la To până unde. Pentru a selecta dimensiunea animaţie la Width şi la Height scriem valorile acesteia, ca apoi să dăm pe butonul de Next.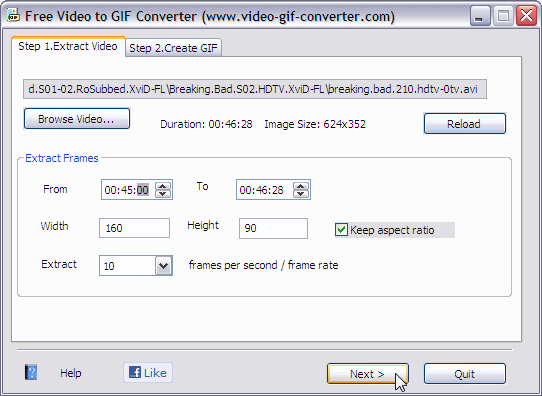 În pasul al 2-lea o să avem un preview la animaţia care o să fie creată, şi posibilitatea de a alege cadrele (frame) pe care dorim să le includem în aceasta. Pentru a şterge un cadru pur şi simplu îl selectam iar apoi dăm pe Delete, opţiune aflată pe partea dreaptă.
Când totul e gata dăm pe Make GIF, iar animaţia noastră o să fie creată.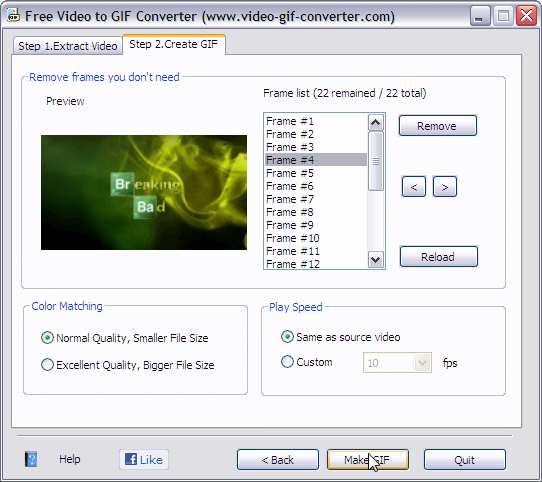 Nu recomand să luaţi părţi foarte mari din video sau să faceţi animaţia de dimensiuni mari, pentru că aceasta o să aibă o dimensiune foarte mare ca şi MB.
Aplicaţia rulează pe Windows XP, Windows Vista, Windows 7 şi Windows 8, pe 32 şi 64 de biţi.