WakeupOnStandBy este un program interesant care poate servi ca şi alarmă pentru calculator şi care poate scoate calculatorul din modul de sleep sau hibernare.
Pe lânga toatea astea, WakeupOnStandBy poate rula automat o aplicaţie, un fişier / folder, o melodie în playerul favorit, un video sau o pagina web, după ce acesta a fost scos din hibernare sau sleep.
Desigur, putem seta ca după un anumit timp acesta să bage inapoi calculatorul în sleep sau hibernare. Util spre ex. atunci când setăm programul să ne trezească la o oră stabilită, şi nu mai vrem să ne deplasăm până la calculatorul pentru a opri alarma.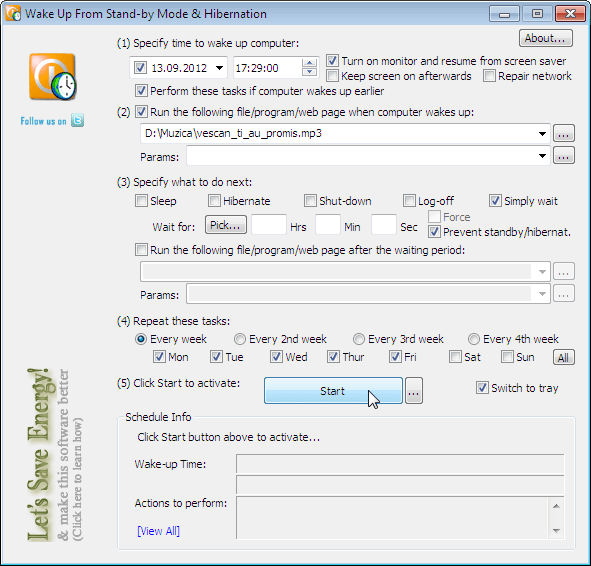 Scoaterea automată din sleep sau hibernare nu este garantată pe toate sistemele dar mie mi-a scos mereu fără probleme sistemul din hibernare şi sleep, deşi la început i-am dat foarte puţine şanse, după ce Citrus Alarm Clock, celebra aplicaţie care se spune că poate scoate sistemul din sleep / hibernare sau shut down nu mi-a funcţionat sub niciun fel.
Pentru a seta o melodie preferată care să fie redată automat la ora stabilită ne ducem pe (2) Run the following file/program/web page wakes up de unde selectăm melodia din calculator, care o să fie redată automat cu playerul default pentru fisierele audio.

Mai jos, la (3)Specify what to do next setăm ce dorim să facă după, de unde putem bifa pe una din opţiunile afişate, sau putem selecta să redea altă melodie sau alt program, după un timp stabilit de noi, pe care îl setăm de mai jos unde apare Wait for.
În caz că nu dorim să facă nimic după, selectăm pe Simply wait, iar acesta o să aştepte să intervenim noi.

Nu uitaţi înainte de a pune calculatorul pe sleep sau hibernare să aveti sunetul de la calculator pornit şi să nu îi daţi Shut down, pentru ca acesta nu este capabil să îl scoată decât din hibernare sau sleep.
WakeupOnStandBy este un program gratuit şi rulează pe Windows 98/ME/2000/XP/Vista şi Windows 7.