Filmuleţele din poze sau slideshow-urile sunt o modalitate excelentă de a împărtăşi fotografiile cu alţii într-un mod mult mai plăcut, sau pur şi simplu de a face un filmuleţ pentru un public mai larg, pe care să-l încarci pe youtube, vimeo & altele, cu posibilitatea de a pune şi o melodie pe fundal.
Cam asta poate face şi Smideo, program cu care putem face slideshow-uri din pozele aflate în calculator, poze online de pe site-ul Flickr şi posibilitatea de a adăuga filmuleţe direct de pe Youtube.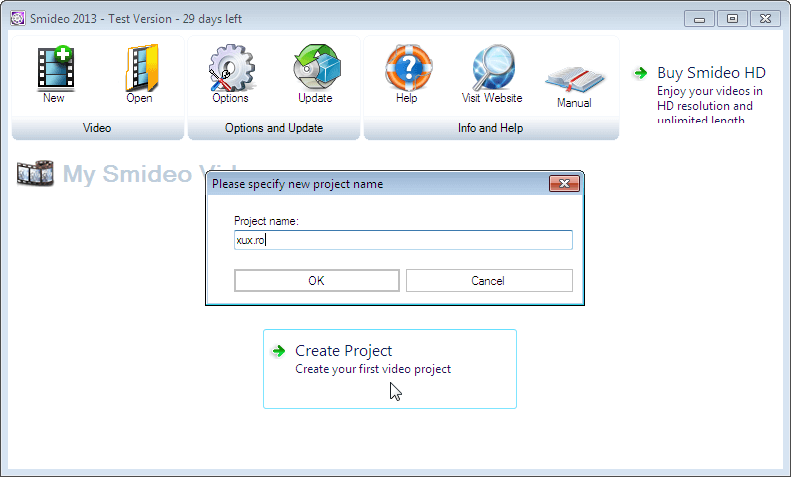 Să lucrezi cu acest program este cu adevărat simplu. Pentru a începe crearea filmuleţului dăm pe Create Project, aflat pe centru, sau din meniul de sus pe New.
Pe ambele ajungem la aceeaşi destinaţie, unde scriem numele proiectului iar apoi dăm pe OK.
Acum urmează crearea filmuleţului, care conţine după cum ne si arată 5 paşi.
Poţi urma fiecare pas în parte sau poţi sări direct la pasul care te interesează.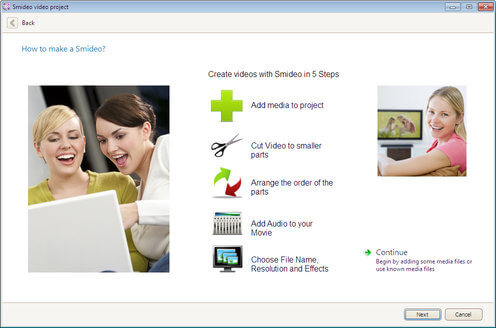 Pentru a adăuga muzică dăm pe Add Audio to your Movie.
Pentru a adăuga poze / video din calculator sau de pe youtube / flickr dăm pe Add media to project.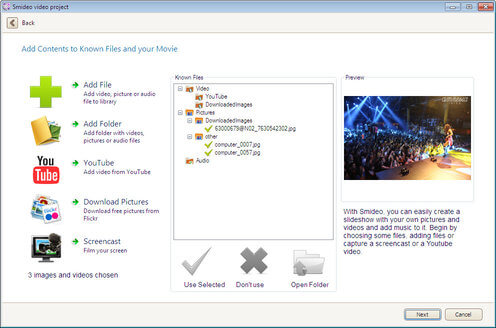 Pentru a trece la următorul pas dăm pe Next, aflat jos.
La final alegem locaţia unde să se salveze filmuleţul creat, rezoluţia acestuia şi efectul filmuleţului.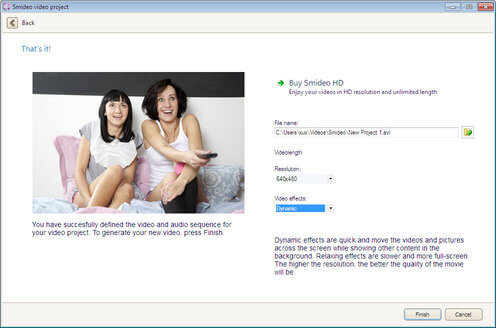 Aplicaţia are două versiuni, una gratuită şi una cu plată. Cu cea gratuită nu putem salva filmuleţele în format HD, asta fiind sigura limitare.
Rulează pe Runs on Windows XP, Vista şi Windows 7.