Ma-Config este un site de unde putem afla şi descărca gratuit driverele necesare pentru sistemul nostru şi informaţii detaliate despre acesta, toate acestea făcându-se direct din browser.
Pentru început o să putem observa în partea de sus meniul cu serviciile disponibile la acest serviciu gratuit.

De la My drivers putem afla şi descărca driverele necesare, la Share putem da mai departe informaţiile legate de sistemul nostru, la My PC putem vizualiza informaţii legate de sistem, Monitoring monitorizează temperatura procesorului, hard disk-ului, etc., BSOD Analysis analizează căderile de sistem, şi creează un raport pe baza acestora (mai multe info găsiţi acolo), iar de la Settings putem face diverse setări legate de contul nostru, sau ne putem face unul direct din acel meniu. Contul nu este obligatoriu.
Pentru început, dăm pe Start the detection, butonul verde de sus, destul de vizibil în pagină.
Dacă e prima dată când utilizăm acest serviciu o să fim nevoiţi să descărcăm un plugin, care trebuie instalat o singură dată şi care funcţionează în orice browser.
Acesta apare spre descărcare când dăm pe butonul Start the detection.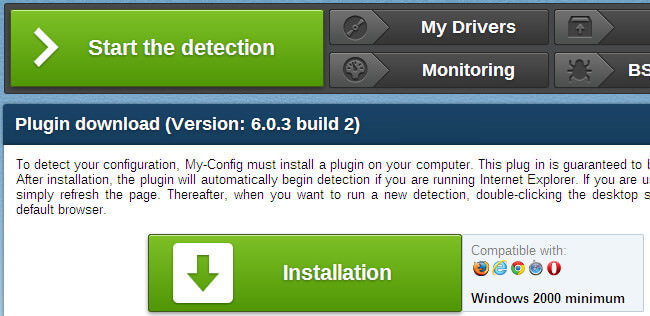 După instalarea acestuia sistemul nostru o să fie scanat iar în meniuri o să apară informaţiile spuse mai sus.
Driverele de asemenea o să apară şi ele, ultimele apărute şi care pot fi descărcate cu un simplu click pe Download, buton care apare în dreapta fiecărui driver disponibil.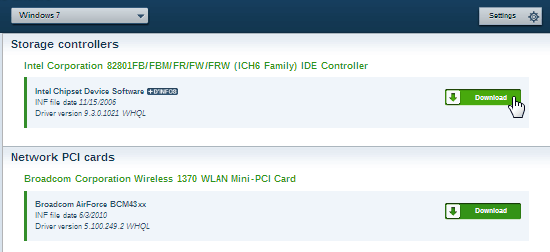 De la meniul Share putem distribui statisticile oricui, mutând Active configuration pe ON. Statisticile primesc automat un link predefinit.
Mai jos apare Module settings, opţiune de unde putem selecta despre ce componente din sistem dorim să apară în statisticile distribuite.
Un serviciu online excelent, simplu de folosit şi complet gratuit, compatibil cu browserele Opera, Firefox, Safari, Internet Explorer şi Chrome.
Vizitează http://www.ma-config.com/en
*Mulţumiri lui flutike pentru recomandarea site-ului.